Today I'd like to talk about what we do at 21unity and how we do things different. How we have taken years of experience and input from working with customers, partners and tech communities, to create solutions and our own cloud, that help drive digital transformation, without having to invest huge budgets, or having to have deep knowledge in technology.
The struggle, that many small and medium sized businesses face at the moment, is that the way their employees work and the way we collaborate, communicate and create and work together is rapidly changing. Also, there are more and more rules and regulations around digital working and the software and platforms, that are used for this. In many cases a company will not be focused on IT, but have services, or products they create and sell to customers. In order, to not lose the focus on their core competencies it is vital, that there are solutions, that can be purchased and used "out-of-the-box" without having to worry about provisioning and maintenance and having to have your own IT-department.
Generally, the big players in IT stepped up to this challenge and have provided many, easy to use platforms, that on the one hand delivered on the promise of being available without having to get too technical, but on the other hand are very unspecific on how the data in these applications and platforms is being handled. In many cases there are also a multitude of analytics tools running in the background, gathering information about the users, to "optimize" the services, or let's be real, find more ways to get more cash from the customers.
So in 2020, 21unity decided to shift the usual paradigms and build our own data center, where we would try to focus on customer needs and be free of any commercial applications and vendors. It is our goal to provide services, that are easy to consume and make the users life better by reducing complexity and entry barriers when starting to use new technology and toolsets. This starts with clear messaging on what we deliver and transparent pricing policies that don't have hidden terms in the contracts and subscriptions. We have shifted from selling a blank application and then upselling essential modules, to delivering the full package of functionality to every customer and then being able to reduce the number of buttons and menus to meet the customer's specific needs. Our applications run directly in your browser and in intuitive smartphone apps, so you don't need to take endless trainings and courses, but can get started directly and can focus on the core of your own business and your own customers. In the background we take care of the technical side and ensure that our apps are always available and stable, so you can work without any disruption or downtimes.
Since we're all about transparency, I want to use this article to show you, how we operate behind the scenes and what differentiates 21unity from other CSPs and MSPs:
OpenPOWER
We are OpenPOWER foundation silver member and use the OpenPOWER architecture for the servers in our infrastructure. The OpenPOWER Foundation is the catalyst for technical collaboration today – fostering complete collaboration, accelerating innovation and driving resiliency across the industry. By combining a 20-year history of hardware and software expertise with a completely open ecosystem. We are using the benefits of an open community, where industry leaders and individuals from around the globe come together to drive innovation and combine knowledge to create change and the solutions, that POWER our tomorrow.

I don't want to go into the bits and bytes of the OpenPOWER architecture with this article, but want to show, why the choice of this technology has many benefits for YOU as our customers and users. OpenPOWER helps us tackle typical challenges like scalability, high availability and stability of our infrastructure. Furthermore, we can deploy more users per core and with that, reduce the number of servers we need, to run our own and our customers workloads. This feeds into different aspects of sustainability such as reduced power consumption through less hardware, which then also need less cooling and physical space in our data center. By optimizing our backend cost, we can pass this through to our products and deliver consistent and fair pricing to our customers and scale to any size of company or project seamlessly. By using OpenPOWER we are bringing the benefits, that for a long time, were only available on mainframes and within the HPC space directly to the mid-market and to companies of all sizes and financial backgrounds (You can buy our POWER servers for your own data center HERE). We strive to deliver POWER for the masses.
Kubernetes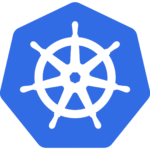 Kubernetes, often abbreviated as "K8s", orchestrates containerized applications to run on a cluster of hosts. The K8s system automates the deployment and management of cloud native applications using on-premises infrastructure or public cloud platforms. By porting Kubernetes to the POWER platform, we can use container technology to manage our customers (databases, storage/data, app functionality/front end) in a consistent way and are able to scale our resources to adapt to the workloads running on our servers at any given time. Since workload intensity can shift, depending on different variables such as time of day, scheduled workloads like backups, or automated tasks, you don't only need computing power, but a system that can provision and deploy resources at scale and this is, where Kubernetes and POWER link up to deliver speed and resiliency, that standard X-86 and VM based systems cannot deliver. Another benefit of running workloads and customers in a containerized environment is, that the shared resource can be delivered to where it is needed and you don't need to have reserved instances up and running all the time and with that creating slack in your Cloud, that produces additional cost. Through the isolation of applications and workloads in containers we can provide faster and safer mechanisms for running, patching and maintaining software and functionalities. For customers, that don't want to use our pre built platforms, but want to use 21unity as classical cloud outsourcing (CSP), we can deliver a scalable and reliable platform for Dev-Ops (Git), Agile development (CI/CD), IT-automation and other tasks that need a powerful infrastructure.
21unityCloud & 21pro
| | |
| --- | --- |
| | Speaking about customers who do want to use our platform offerings, we have built a full featured collaboration platform based on Nextcloud Enterprise called 21unity Collaboration Cloud, which gives you a digital office, where you have all the tools needed, to communicate and collaborate within your own companies and teams, or externally with your customers and partners. 21unity Cloud allows you to store, manage and share data in a secure way, lets you communicate internally and externally via Chat or Video and lets you document and share your work and projects with a built in office-suite, agile-boards and wikis. |
Where a lot of vendors will bill you separately for each of these functionalities, or you need to use multiple vendors, 21unity Cloud is a full-fledged "out of the box" browser-based platform, that delivers to all your collaborative needs. With 21unity Cloud we want to deliver towards the efforts and challenges of digital transformation, that have become relevant through changes in the way that we work and collaborate. With home office and remote working on the rise and the younger generations valuing freedom and flexibility over paychecks, we need tools and solutions to support our workforce in the best way possible and make working more productive by offering platforms that are easy to use and with that, bring fun into your work.
| | |
| --- | --- |
| Since fun doesn't pay the bills and there are many organizational tasks to be done after the video chat ends, we also decided to build our own ERP-system called 21pro, which is a platform to manage and control the business side of things. It includes, accounting, goods-management, a CRM, administration tools, employee management and a ticket system, to assign and manage tasks within your company. With 21pro you have all the numbers, data and information at the tip of your fingers and can make better decisions based on real world facts, which will lead to better customers service and happiness and better offerings and products. | |
At 21unity we try to put YOU, our customers, users and community at the heart of the choices we make and the products we deliver. I've worked with many companies, partners and platform providers over the years, that focus solely on return on investment and the investor's needs, which then cuts short on actual innovation and shared success, that you can create with your customers and their projects. The tech industry has reached a point, where traditional paradigms no longer work and where we need to re-iterate how we go about doing things and why we are doing them. I haven't even gone in to topics like security, privacy and digital sovereignty in this article, but believe, this is not so much an exclusively corporate topic, but something that we all as users in the digital space should put on our agenda as a personal right and the only way, we can influence how our digital assets are handled is by demanding transparency and choosing the right vendors and platforms to work with (I will be featuring one or more articles about this topic on here in the future). And with this mindset it is, how we operate at 21unity and are putting the YOU in Unity. – 21YOUnity –
Please feel free, to leave a comment under this article, or contact me directly via LinkedIN, if you have any questions, or want to collaborate on some content. If you need any information on our products, pricing, or the technology we use, please contact us at cloud (at) 21unity.de
Eine deutsche Version von diesem Post findet ihr HIER